Today's repeat guest blogger is Sarah Tolson, a Certified Financial Planner with her office in Danville.  Her bio and contact information are below.
The amount of money Americans put into traditional IRAs has been steadily increasing, topping $300 billion for the first time in 2007 (according to the most recent data).1
Yet direct contributions have accounted for a declining percentage of the total amount of money flowing into IRAs. In 1996, 11% of IRA inflows was due to direct contributions; by 2007, direct contributions were responsible for only about 4% of new money in IRAs.2
If workers are contributing only $14 billion of the more than $300 billion going into individual retirement accounts, where's the rest of the money coming from?
Meet the Rollover
An alternative method for investing in an IRA is through an IRA rollover, which can be used to transfer assets from a former employer's retirement plan or another IRA.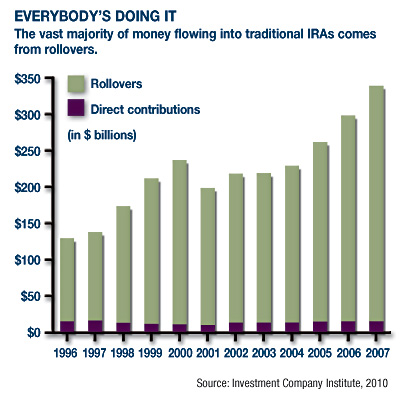 When you leave an employer for another job or for retirement, it might be tempting just to withdraw your retirement plan assets, but doing so could be one of the costliest mistakes you ever made. Every dollar you withdraw is subject to ordinary income taxes; and if the sum is substantial, the extra income could force you into a higher tax bracket. Plus, if you are younger than age 55, your withdrawal may be subject to a 10% federal income tax penalty (with certain exceptions).
By contrast, a properly executed IRA rollover may help preserve the tax-deferred status of your retirement funds. Not only will you avoid a 10% tax penalty, but once you begin withdrawals in retirement, you can spread your tax liability over multiple years.
There are a number of reasons why you may want to transfer your money out of a former employer's plan, but they all come down to greater control over your money.
Employer plans are an expense to the employer, who may not be interested in providing benefits to former employees. When you roll your money into an IRA, the custodian is directly accountable to you, not your former boss.
IRAs tend to offer greater investment flexibility. Employer plans typically have a limited number of investment choices and often don't offer the opportunity to purchase individual securities (such as stocks and bonds). An IRA can be directed to purchase just about any qualifying investment.
If you have multiple retirement accounts, including multiple IRAs, you may run the risk of losing track of your money. When you consolidate the assets into a single IRA, it may be easier to make adjustments, reallocate, rebalance, or simply maintain a clear picture of your financial situation.
The critical element in any rollover is doing it correctly, which means you may need professional help. Otherwise, you could incur unexpected taxes and penalties.
1–2) Investment Company Institute, 2010
The information in this article is not intended as tax or legal advice, and it may not be relied on for the purpose of avoiding any federal tax penalties. You are encouraged to seek tax or legal advice from an independent professional advisor. The content is derived from sources believed to be accurate. Neither the information presented nor any opinion expressed constitutes a solicitation for the purchase or sale of any security. This material was written and prepared by Emerald. © 2010 Emerald.
Sarah Tolson, Certified Financial Planner™ recipient, is passionate about building the next generation of her family's legacy of personalized financial planning; and she is committed to helping professionals create wealth-building plans tailored to  their age, goals, and life circumstances.
Sarah joined her family's wealth-building business to help the children of her family's clients begin to start building their own wealth, with someone who understood their values and who would not be judgmental or lecture them like a parent.
Sarah has a Bachelor of Science in Business from the Kelley School of Business at Indiana University. She joined her family's firm in 2006 after several years in a successful retail merchandising career with Target Corporation and Abercrombie & Fitch.
As an active member of the Junior League of the Oakland-East Bay and the Pleasanton North Rotary Club, Sarah participates in philanthropic work regularly. Sarah is on the Board of Directors for the Financial Women's Association of San Francisco and helps to organize events especially for members who live in the East Bay. She is also the Vice President for the Founder's of Success chapter of Business Network International (BNI) and a member of e-Women Network.
In addition to financial consulting, Sarah is an entertaining and captivating public speaker; and she is currently writing a book about financial planning for women with young families. In her spare time, Sarah enjoys playing tennis, cooking, and traveling.
4115 Blackhawk Plaza Circle, Suite 100, Danville, CA 94506
phone:                         (925) 736-3024             / fax: (925) 736-3026
www.GirlsJustGottaHaveFunds.com